Okay folks, guess what? Christmas is 100 days away today. Yes, 2013 has flown by, hasn't it? It's insane. This year, we've decided to launch a slightly larger version of our ever-popular personalized Christmas ornament. In the past, we've only had a 1.5" disc that held up to 47 characters. This year, we'll have an additional 1.75" disc that will hold up to 57 characters. Both of these are made with nickel silver - a weighty metal that doesn't tarnish like sterling and is affordable! In addition to these options, we'll still have our tiny 1" aluminum square ornaments too -- perfect thoughtful gifts for friends, pets, colleagues, etc.
One caveat I want to stress about these ornaments.......ORDER EARLY. Every year since 2011 we've had to turn people away. These ornaments are very popular and time consuming to make and sometimes we have to deactivate them early just to have time to fill all of our other orders. If you're shipping to an address outside the U.S., ORDER NOW! Okay,
so, let's start trimming the tree!!
First up, the traditional
Personalized Christmas Ornament which holds up to 47 characters
. You can even choose your own symbol for the middle from a snowflake, fir tree, or snowman.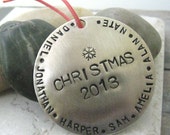 Next comes
the bigger ornament that holds up to 57 characters
! It can be customized the exact same way. Same material (nickel silver), just a bigger disc!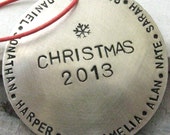 Included in each listing is a picture that compares the sizes of these two discs as well: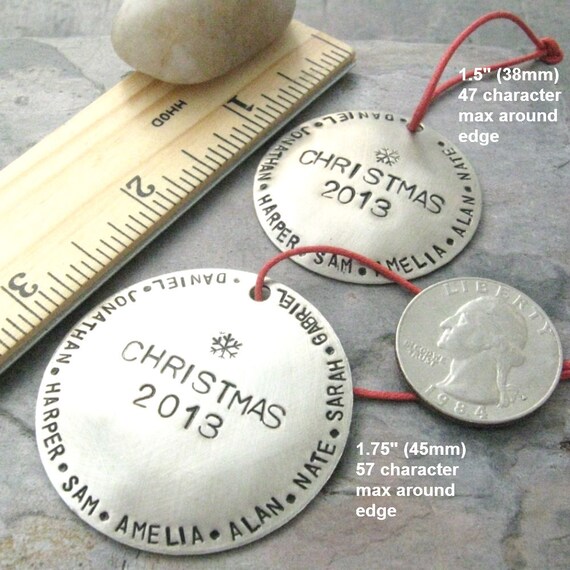 We also have some brand new designs this year shown in the 1.5" (47 character) size. First up,
Baby's First Christmas
!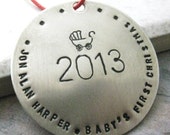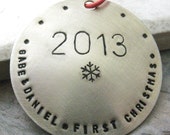 And here's an example of our 1" aluminum rounded square ornaments. Aren't they adorable?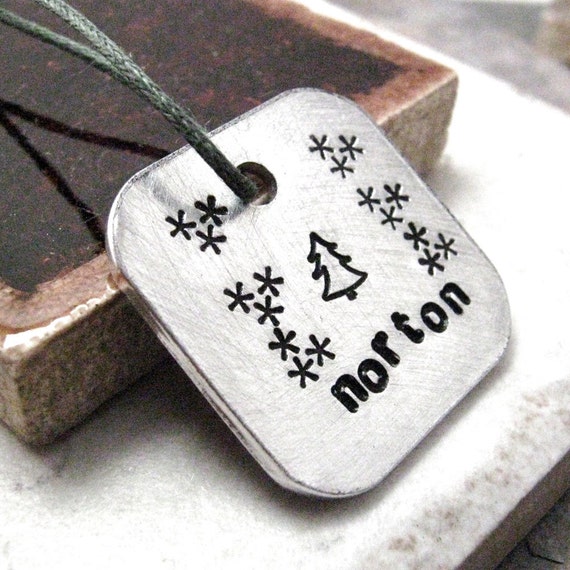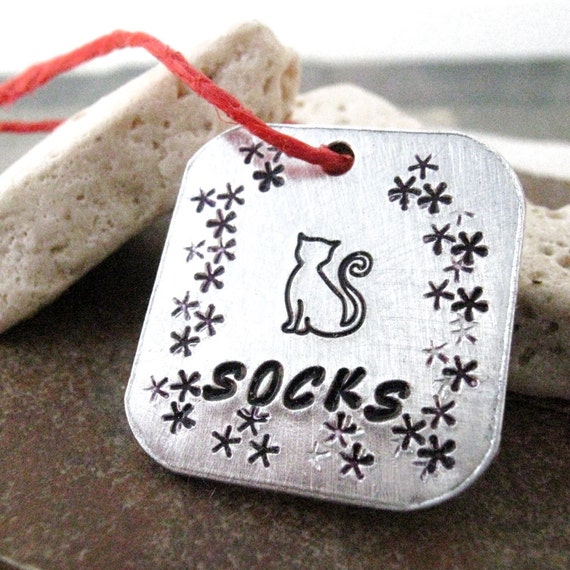 You can view all of our ornaments
HERE
- including bulk deals! Our entire shop can be viewed
HERE
.
More new pieces coming soon! ~Lori